"Keeping Up With The #Botox"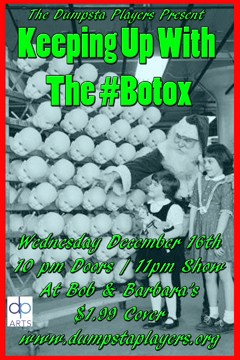 The Dumpsta Players take on the blurred line between entertainment and politics in "Keeping Up With The #Botox." Philly girl Amanda Playwythe goes to Hollywood to make it big and encounters a has-been producer who introduces her to 70s sitcom stars "All in the Family's" Sally Struthers and "M*A*S*H's" Loretta Swit. Amanda's odyssey takes her to a Donald Trump fundraiser with Kim Katrashian, Jake Jellyhole, and Adele.
When: Wednesday December 16, 2015. Doors open: 10 pm, show starts: 11 pm
Where: Bob & Barbara's Lounge (1509 South Street, Philadelphia)
A portion of proceeds benefit PhillyCAM.
PhillyCAM operates Philadelphia's public access television network. PhillyCAM is a community media center that brings together the people of Philadelphia to make and share media that promotes creative expression, democratic values and civic participation.
The Dumpsta Players' final show at Bob and Barbara's Lounge will be "Prom Trash All-Stars," held on April 20, 2016. The Dumpsta Players will continue to create original content for their television show on PhillyCAM.