Ricky
Founder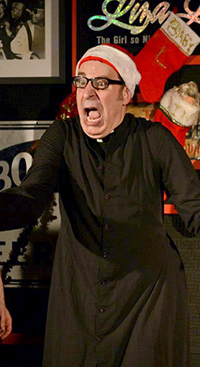 The Dumpsta Players just sort of evolved over a period of months. The early years of the Dumpsta Players were wacky, chaotic and silly. The shows progressed and became more pronounced. Players came and went, but the energy remains. 

My special thanks to management at Bob and Barbara's whose loose leash has allowed The Dumpsta Players to really breathe.

Over the years, I have been able to fulfill many onstage fantasies including: "Darkeye Shadows" featuring Barnabas Collins, "Poseidon Misadventures" featuring Belle Rosen, Jackie Kuntzmann and Chardonna Jenkins, 60's era novelty singer Mrs. Miller, Miss Philippines & the music of the Eurovision Song Contest & Finnish band Ultra Bra as seen through the popular "OctoberFist" series.

Many humble thanks to film greats John Waters, Woody Allen, and Alfred Hitchcock as well as celebrities Divine, Madonna, Sandra Bernhard, Roseanne, Charles Nelson Riley, Karen Carpenter, Zsa Zsa Gabor, Pia Zadora, Rip Taylor and The Space Giants.
John is a mainstay of the Dumpsta Players. He is the communications coordinator for the veterinary school at Penn and the staff photographer for the theater group Quince Productions.
Jennifer
Founder
Jennifer is a lawyer by day, theater geek by night. She is an original member of the Dumpsta Players and has enjoyed varied roles with them both on and off stage including director , choreographer and general techie.
She is proud to be a founding board member of the DP Arts Consortium and it is her privilege to give back to the community. She also appreciates the opportunity to work with some amazing people to bring the arts to the community and help other non profit groups achieve their goals.
Jennifer is married to Glenn and is thankful to her parents for instilling in her compassion and a joy for helping others. They are forever missed.
Aaron
2010 – present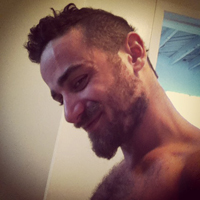 Aaron Stella was born from the dark, wet crucible of a old ham sandwich, which belonged to a leathery old vixen who ran a Rhino pie stand in the Nevada wastes. The sandwich of subject was to be the old vixen's "cheat day" meal, the one and only allowed by her Jenny Craig diet; but with it forgotten, she ate her standard prisoner's ration of ragweed and cigarettes, while Aaron ate her ham sandwich like a newborn caterpillar eats it's own egg.
Like every ham-born star, Aaron got his start in show biz as a professional mourner for Mafia families in New Jersey. Customarily, this profession was reserved for Italian grandmothers who outlived their retirement saving, so Aaron disguised himself as an old crone with a hunchback, farming his fame with his hallmark move of hurling himself onto caskets of the deceased. All was well and good in his life until one day as he was performing his signature move, his haggard old lady wig went flying off his head and landed in the lap of the wife of the deceased. With his gender exposed, he thought his career in show biz was ruined.
But as fate would have it, Ricky Paul, the founder of a trash-glitz drag troupe in Philadelphia called the Dumpsta Players, was in attendance at the funeral. He approached the despondent Aaron, and told him that he had been watching him for sometime now. It was his belief that Aaron's calling was not as a professional mourner, but as a member of his gender-fuck faction, "Because after all,," as Paul said, "you're never fully a drag queen until the wig comes off during a show."
From that day forward, not a show went by when Aaron's wig would launch off his head into the crowd, followed by thunderous applause.
Chatty Cathy
2002 – present
Karaoke was my gateway drug to the Dumpsta Players. It was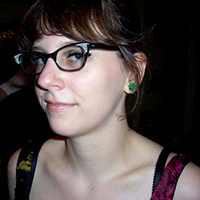 at karaoke I met DJ K-Tell (aka Ricky). Soon after I was doing shows. For a web designer by day, stifled showoff in my off hours whose childhood ambition was to be a Solid Gold Dancer and whose downright obsessive love of pop culture extends from the lowest of lowbrow to the highest of high art, joining the Dumpsta Players has given me a wonderful outlet. I never knew how much I needed to be a ham until I started performing on a regular basis.
I've proudly been a part of countless shows from "Prom Trash" in May 2002 to present. I am sort of a character actor in that I've played a wide range of roles (male, female and everything in between, all ages, comedic as well as dramatic) and have managed to avoid typecasting. I dance (interpretive dance!)  and rock some hawt air guitar. I like to lend my thrift shopping savvy, crafting skills, and my budding interest in theatrical makeup to helping fellow Dumpstas look their trashy best. I co-write shows (recently, "Miller, She Wrote" and the "Star Whorez Trilogy" with my first being "Officer Manley's Cops" back in 2004). An amateur DJ, I will also sometimes spin music during after parties and have started assisting with some of the sound editing for shows.
David
2004 – present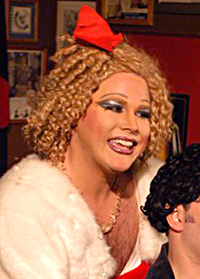 Slavid, a.k.a. David, is an accomplished area performer and technician. Since '04 he has been performing in drag as his character Amanda Playwythe with the Philly based performance group, The Dumpsta Players. He has a BS in computer science with a minor in music from West Chester University. He worked at the Philadelphia Museum of Art for 9 years as a Computer Help Desk Technician and was the sound engineer for the Friday night jazz series from '04 – '06.  He is also the lead tech for Philadelphia Qfest. Lastly, he is studying Sketch Comedy and Improv at the Upright Citizen's Brigade Training Center.
Franco
2001 – present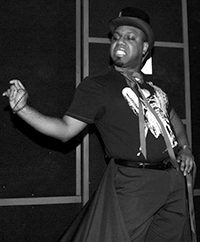 When not waiting on divas and wanna be divas at his retail job, Franco enjoys playing such roles as Orange Julius, Sylvester, Miss Chaka, and Extacia ,the enchanter. Franco has an extensive dramatic background in musicals, comedies and dramas such as Hair, Rocky Horror Picture Show, & Jeffery. His inspirations include Alvin Ailey, Diana Ross, Paris is burning, The Wiz, Auntie Mame, Janet Jackson & Madonna and a plethora of other singers, dancers and artists. A big thanks to Ricky and Freddy for the opportunity to perform with such a great group of people and much love to Mom & sisters for all the love and support.
Freddy
1999 – present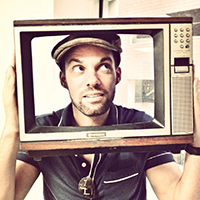 Freddy made his Dumpsta acting debut in March 1999 in Jackie Kuntzmann's Jew Wave. This show introduced Philadelphia to recurring character Chardonna Jenkins, who has made an appearance in over a dozen shows. In addition to lending his acting talents, Freddy also has helped behind the scenes as a writer, beginning in 2001 with Chardonna Attacks!
In His Own Words: What stands out for me with my experience with Dumpsta Players is that each show can be enjoyed on one level, strictly from an entertainment perspective, or it can be enjoyed for underlying messages as well. Humor is a great way to address topics we don't always feel comfortable discussing, and working in the context of these shows has helped provide a thinking perspective on hot button issues.
James
2004 – present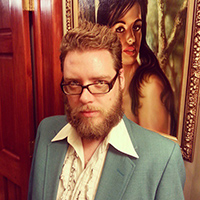 James has been involved with The Dumpsta Players in some shape or form for over a decade; either by taping the shows for over 4 years, marrying a fellow cast member, or appearances on stage. Due to some sin in a previous life he is doomed to career in non-profit arts organizations. His favorite song is T-Rex's "Baby Strange", but if you buy him a Special he will dance to anything. The Dumpstas help him fulfill his dream of being an oddly shaped character actor, for which he is grateful.
Lance
2001 – present
I started with the Dumpsta Players in "Prom Trash 5: The Showdown" in April 2001. I was more than ready to compete for the title of Miss Prom Trash. Sharon Needles put me in a dress and gave me an old ratty wig. I played my dirtiest by ranting about my opponent's hair: "Your volume just sucks!" Though I won best hair, it was all for naught because I LOST to Ms. Billa and Lori With a Story. After losing, I somehow mustered enough nerve to talk to Ricky about performing in another show. 

Some of my more enticing characters have been Juicy Weinstein, The Bitchy Beach-Tag Lady a.k.a. Doris Shittickler, Tammy Gaye-Faker, Paris Hilton, and Kim Katrashian. My male roles include Falco, along with Dr. Mendrakis. Nueva Gabor debuted hosting "Prom Trash Vegas" in May 2003. Princess Disgrace has been seen around; Carrie's blood is still on her dress. Over the years I have learned how the Dumpstas are truly a family, and it would be hard to find a theater group like this one anywhere else. That is why I am proud to call myself a Dumpsta Player.
Messapotamia Lefae
2010 – present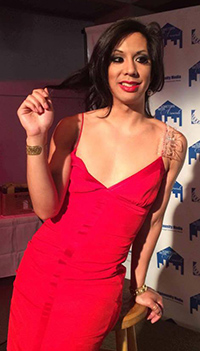 "Messy" is a post-gender surrealist, satorialist, and dance artist.  Born in the State of Rhode Island, Lefae received modern dance training while pursuing a BA in Science, Technology & Society and Molecular Biology at Vassar College.  In 2008, she enrolled in the Professional Training Program at The School of Toronto Dance Theatre in 2008.  While in Toronto, she performed with Lady Janitor (Eroca Nicols) for Nuit Blanche, the Dance in My Backyard (DIMBY) Festival, the Guelph Contemporary Dance Festival, the Canada Dance Festival, and for the 33rd Rhubarb Festival.
Since moving to Philadelphia in 2010, Messy has served as an advocate for a number of HIV/AIDS-related non-profits, the LGBTQ Community, queer performance collectives, the Radical Faeries, and public access television. Messy's favorite role as a Dumpsta was probably Kunthy Toat, owner of Philly's newest gastropub experience, "Mouth."  Lately, Messy has been studying ballet at the Wissahickon Dance Academy and performing with a small ballet company, Pages to Pirouettes.
Nathan
2009 – present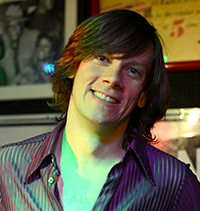 I was first exposed to the Dumpsta Players in October of 2009 during a performance of "OctoberFist," and I was immediately drawn to these "freaks." Not satisfied with just being a mere groupie, I began working as the Stage Manager, and, soon enough, I made a brief walk-on during "March of the Humannequins" as a victim of a werewolf attack at a bus stop. Next, I was cast in my first role as Bob Petry, the flaming florist in "A Bridezilla X-Mess." My other memorable roles include: Lucious, heir to Empress Elektra, in "The Empire Smokes Crack," Andy Gibb in "Discotastrophe," Gazelle7 in "Star Whorez," Frosty Jacks in "Tacky 80s Kitschmas Showdown," Baby Daniel in "Church of the Poisoned Mind," and, the role where I really found my footing, Mr. Rogers-Gayborhood in "Dead 00's Revue."
Years later, I'm still at it. No one is more surprised than I am, for I had never received any theatrical training or experience before I came on board. But over the years, I have played various crazy characters, danced up a storm, and lip-synched like a diva on the stage at Bob & Barbara's and in front of the studio cameras at PhillyCAM, Philadelphia's community access channel.
What is it like being a Dumpsta Player? I have found it to be a cathartic experience. With each performance, I feel as if I have shed old fears and presumptions and come a little bit closer to understanding myself. It also means being accepted for who you are and embraced by the family. I am continuously amazed and inspired by my fellow Dumpstas. The lesson they have taught me is that it is not only OK to be a "freak," it is essential.
Sara
2002 – present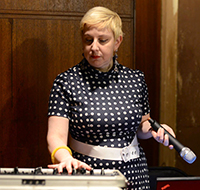 The night I joined The Dumpsta Players, I was wearing a blond beehive wig, silver mini dress, and white go-go boots. It was Prom Trash 2002. I didn't expect much, I was just happy to have an occasion to wear such an outfit. While I did not get to be crowned Miss Prom Trash 2002 to the sounds of Debbie Gibson's "Lost in Your Eyes," I was a runner-up and won Best Hair. It was one of the biggest achievements in my little life.
My Dumpsta resume includes various freaks and geeks, from Goober Nosepicker the Creepy Man in The Office to one-half of Russian faux-lesbians T.A.T.U.. But my most beloved character is Mrs. Miller, a very fast and loose interpretation of the 60s housewife, frequent Merv Griffin guest, and cult favorite best known for her unintentionally funny versions of songs by Petula Clark and The Lemon Pipers.
All of this stems from a need to live out my Carol Burnett fantasy, and other delusions created in my mind from watching too many 70s variety shows as a child. It's my greatest wish to stage a Hedwig-like musical based on X-Ray Spex's "Germ Free Adolescents."
When I'm not running around acting like a freak in bars, I'm the host of the award-winning Sing Your Life Karaoke.